Finale des Eighties - lancé par Jchristophe
Nominés
AC/DC - Back In Black
Aerosmith  - Pump
Dio - Heaven And Hell
Dio - Holydiver
Gun N' Roses - Appetite For Destruction
Helloween - Keeper Of The Seven Keys
Helloween - Walls Of Jericho
Judas Priest - Screaming For vengeance
Kreator - Extreme Aggression
Megadeth - Peace Sells But Who's Buying
Metallica - And Justice For All
Metallica - Kill 'em All   
Metallica - Master Of Puppets
Metallica - Ride The Lightning
Motörhead - No Sleep 'til Hammersmith
Saxon - Denim And Leather
Scorpions - Blackout
Scorpions - Love At First Sting
Scorpions  - World Wide Live
Slayer - South Of Heaven
Participants
69mich69 - thelols666 - pierick - sergent eddie - the prisoner - appiantiqua - Narchost - Timewalker - theAlex75013 - Jchristophe - Oblivion - the duellists - ead666 - Phantom Of The Beast - Simbaud - Voivodian - Jean-maiden - Angus - IRONPASCAL - eddie 29 - WissM - Marwill - Ironsteven - IronMaiden44 - Nikki - theancientmariner - kELDANT - 7thson - Fireball - Phil93
Album des 80s
Metallica - Ride The Lightning
Petit bilan du jeu "Finale des Eighties" par thelols666
Le vote a duré une éternité : 312 jours ! C'est le 2ème jeu le plus long, le 1er étant "Pochettes FTY" avec 320 jours !
30 membres du forum ont voté, avec un nombre total de votes de 4928, ce qui donne une moyenne de 15,79 votes par jour.
Voici le nombre de votes positifs et négatifs pour chaque Album des Eighties, le tout classé par date d'élimination, ainsi que le nombre de votes par membre votant :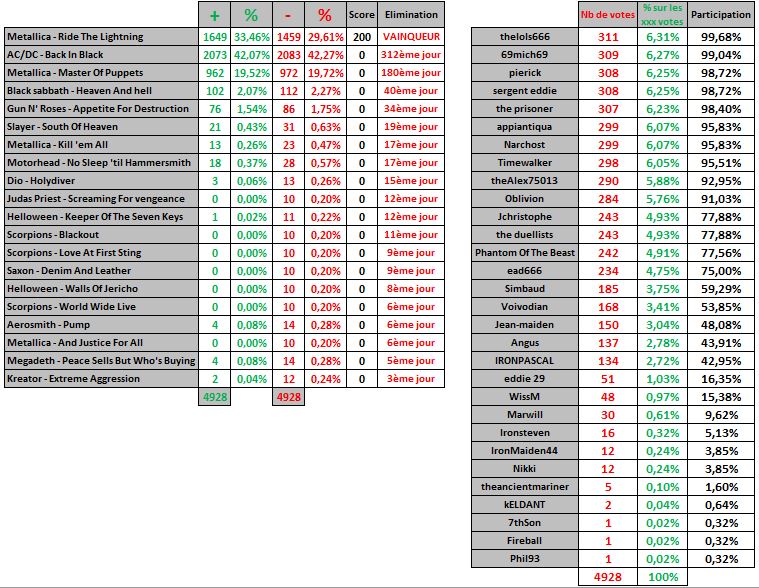 Back In Black d'AC/DC a pris la tête le premier jour et n'a laissé que des miettes au duo Ride The Lightning et Master Of Puppets de Metallica.
Ce trio a cohabité pendant 141 jours jusqu'à l'élimination de Master Of Puppets. La victoire semblait promise à Back In Black, mais revirement de situation au 197ème jour de votes,
avec le début de la remontée de Ride The Lightning. Au 272ème jour, ça commence à sentir le sapin pour Back In Black, qui se fait doubler et perd la tête pour la première fois !
Voici ensuite le détail des votes pour chaque Album des Eighties :
Et pour terminer, le détail des votes pour chaque votant :
---
... and realise you're living in the Golden Years

Mieux vaut être belle et rebelle que moche et remoche! Musky aime Rod